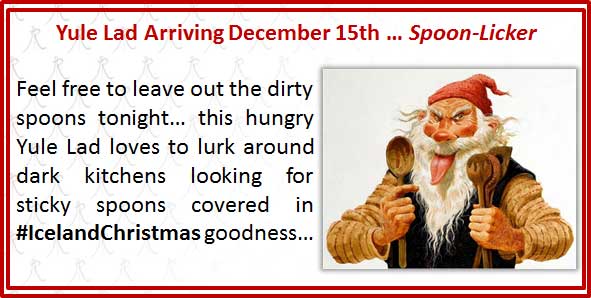 A festive social media campaign with client Hotel Ranga immerses travelers in Iceland's weirdly wonderful Jolasveinar "Christmas elf" traditions: #IcelandChristmas
PRESS RELEASE
HOTEL RANGÁ IMMERSES TRAVELERS IN ICELAND'S WEIRDLY WONDERFUL CHRISTMAS CUSTOMS
Iceland is a uniquely magical destination for holiday travelers. Magnificent wintry landscapes and twinkling Northern Lights are matched only by a distinctive Christmas folklore rich in tales of 13 mischievous Yule Lads and a child-devouring Christmas Cat. Hotel Rangá luxury resort immerses guests in Iceland's weirdly wonderful yuletide traditions and shows travelers on social media how to experience #IcelandChristmas like a local.
In the giving spirit of the season, Hotel Rangá shares #IcelandChristmas traditions and celebrations throughout December on social media. Travelers can learn the backstory of Iceland's 13 troll-like Yule Lads with unusual names like Door-Slammer, Sausage-Stealer and Sheep-Worrier. By following Hotel Rangá on Twitter, Instagram and Facebook with the hashtag #IcelandChristmas visitors can discover information on local events, Christmas markets, Icelandic delicacies, yuletide music and real-time holiday travel tips.
Guests staying at Hotel Rangá from December 12th – 24th experience 'Shoe in the Window,' a delightful custom that evokes the nostalgia of being an Icelandic kid at Christmas. According to folklore, the Yule Lads come down from the mountains to make mischief in the villages and leave tasty treats in the shoes of good boys and girls. Hotel Rangá rekindles this tradition for kids big and small, and encourages guests to share their photos and moments on social media.
Decked out in festive Christmas decorations, log-cabin style Hotel Rangá sets the perfect holiday scene in the secluded countryside of South Iceland. On select weekends in December the hotel restaurant serves a renowned Icelandic Christmas buffet of distinctive heritage dishes. Visitors can design their own winter experience with complimentary access to the outdoor thermal hot-tubs, day trips to frozen waterfalls, glaciers and reindeer that roam wild in southeast Iceland.
December is peak Northern Lights Season and Hotel Rangá is ideally located in the southern countryside away from all light pollution. Travelers wishing to experience an authentic Icelandic Christmas or a Northern Lights getaway can book on www.hotelranga.is and request a complimentary Northern Lights wake-up call.