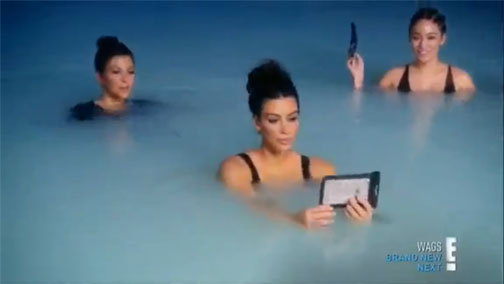 Client Hotel Ranga is featured as the deluxe accommodation enjoyed by the Kardashians in the Iceland episode of KUWTK.
How to Travel Like A Kardashian in Iceland
Explore the deluxe side of Iceland with these travel adventures and attractions experienced by the Kardashian clan in the Iceland episode of the wildly popular reality TV series "Keeping Up With the Kardashians."
Arriving via Icelandair, Kim Kardashian-West, Kanye West, pal Jonathan Cheban and birthday beauty Kourtney Kardashian were seen exploring Iceland's fiery South Shore by Super Jeep with visits to Gullfoss "Golden" Waterfall, Geysir hot springs and a tasty lunch stop at a local greenhouse that serves organic, pesticide-free hothouse veggies grown from geothermally heated water.
While in Iceland #Kimye & Co made camp at boutique-chic 101 Hotel in downtown Reykjavik where they did some city sightseeing including selfies from the top of Hallgrimskirkja Church, easily the most recognizable building in the city. Afterwards they checked into luxury adventure Hotel Ranga located on a lush salmon river in South Iceland with views of the famed Eyjfjallajokull Volcano.
Golden Circle Tour with Fridheimar Greenhouse
Explore epic natural wonders along the Golden Circle Route including erupting geysers, a massive waterfall and Thingvellir National Park – the visible site where the Eurasian and North American tectonic plates meet. Whet your appetite for organic veggies at Fridheimar Greenhouse to sample hothouse tomato soup and cucumber schnapps.
Super Jeep Glacier Tours
Sometimes called super trucks or monster jeeps, these modern day Viking vehicles are specially modified to handle Iceland's volcanic terrain with large tires, souped-up engines, and state-of-the-art GPS navigational systems. Super Jeeps are especially good at forging through rivers and driving on glaciers. Super Jeep tours are available throughout Iceland, but are most exciting on glaciers like Solheimajokull as seen in KUWTK.
Reykjavik Walking Tour
The capital of Reykjavik is a wonderful walking city with quaint town squares, colorful buildings and sidewalks so clean you can practically eat off them. The city of Reykjavik offers several guided walking tours which include iconic sites like Hallgrimskirkja Church where a visit to the steeple provides a 360° view over the city, which is a great way to get your bearings and take awesome overhead shots.
101 Hotel Reykjavik
Located in the heart of Reykjavik's trendy 101 district, this boutique-chic property is a member of Design Hotels and features sleek Scandinavian, minimalist design.
Hotel Ranga South Iceland
Four-star Hotel Ranga in South Iceland is a warm countryside hotel offering serenity, luxury, and relaxation with views of Mt. Hekla Volcano, glaciers and an active volcano. The 7 suites in The World Pavilion are individually decorated to represent each of the seven continents. Area activities include glacier snowmobiling, salmon fishing, horseback riding and Super Jeep adventures.
Blue Lagoon Geothermal Spa
Luxuriate in the milky-blue waters at Iceland's famed Blue Lagoon geothermal spa. Don't miss the delectable swim-up bar or rubbing white silica mud on your body for extra smooth skin. Upgrade your experience with a visit to the Exclusive Lounge with an in-water treatment or massage using Blue Lagoon skin-care products.